Company Profile
Message from the President
The Practice of "Growth" and "Reform"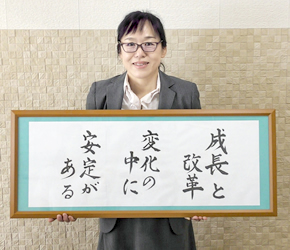 CEO Hitomi Kawauchi
ARCA CO., LTD. is a company that thinks about and creates what is necessary to provide secure and safe global environment to the current children for the next 50 years, 100 years and so on.
That is indispensable energy for daily living. We are serious and carefully thinking of this energy.
"Growth" and "Reform" is regarded as our daily motto. We quote it because we are impressed by the famous saying of Anne Morrow Lindbergh (Female Aviator), "Only in growth, reform, and change, paradoxically enough, is true security to be found."
Of course, there are reasons to this quote, it is always important to be sensitive to the changes with surrounding circumstances and environment. In order to obtain a continued stability, we think we should practice "growth" and "reform" with clear goals.
We will move forward to provide continued stability and make more and more people happy with consecutive challenges and researches.

---
Company profile
Company name
ARCA CO.,LTD
CEO
Hitomi Kawauchi
Head Office Address
Zip-Code: 981-3629 30, Tekunohiruzu,
Taiwa-cho,Kurokawa-gun,
Miyagi-Prefecture, Japan
Material Storage Center
226-5, Tomiya-bussyo, Tomiya-city,
Miyagi-Prefecture,
981-3311, Japan
Capital
20,000,000 JPY
Establishment
20th June 2011
Licenses
Specific Construction  -Electric Construction, Miyagi Prefecture Governor Permission (General - 26) No. 19150 Class-1 Architect office No. 15010135 Residential Building Trading, Miyagi Prefectural Governor (1) No. 6356 
Major Banks
The Shoko Chukin Bank,Ltd., Mizuho Bank, Ltd., Furukawa Credit Cooperative, Mori no Miyako Shinkin Bank
Our Business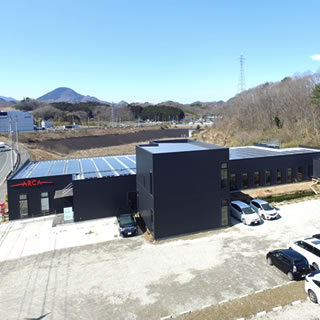 ■

Main Branch
RENEWABLE ENERGY
Solar and Wind Power generation (Engineering, Procurement, Construction)
Manufacture, Import and Sales of related parts.
Design, Installation and Sales of Hybrid Charging & Generation System( Hybrid Pole and Solar Carport).
Storage Battery System related business
STORAGE BATTERY SYSTEM
Manufacture, Import and Sales of related parts.
Design, Manufacture, Import and Sale of Hybrid Products Mobile Batteries · Electric Vehicles)
INTERNATIONAL BUSINESS
Manufacture, Export and Sales of BeauLet® (Electronic Bidet).
EPC Business of Cogeneration Power Plant.
Trade Business of Domestic and Foreign goods
---
History
June, 2011
ARCA CO., LTD. 
(Tsurugaoka, Izumi, Sendai-city, Miyagi. Establishment capital 800,000 yen)
December, 2011
Registered as a General Construction and Equipment Installation Company  (宮城県知事登録 般-23 第19150号)
September, 2013
Capital Increased to 7,000,000 JPY.
May, 2014
Capital Increased to 20,000,000 JPY.
July, 2014
Registered as a Specific Construction and Electric Construction Company 
(宮城県知事登録 特ー26 第19150号)
August, 2014
Relocated head office to Tomiya-city, Kurogawa-gun, Miyagi
(Now Tomiya-shi)
October, 2015
Registration in General Architect Office
(宮城県知事登録 第15010135号)
January, 2017
Residential Building Trading Registration
(宮城県知事(1)6356号)
July, 2018
Registration of transferring head office to30,Tekunohiruzu,Taiwa-cho,Kurokawa-gun,Miyagi-Prefecture,Japan
(Branch Office:1-27-20,Tomigaoka,Tomiya-city,Miyagi-Prefecture,Kapan)
October, 2018
Establishment of ARCA Farm Co., Ltd.
January 2019
Establishment of local subsidiary in Vietnam
February 2019
Establishment of local subsidiary in Malaysia
April 2019
Office opened in Hokkaido
(Chitose, Hokkaido Saiwaicho 6-chome, 20-25 Maison de Kou Building 1F)
Access Map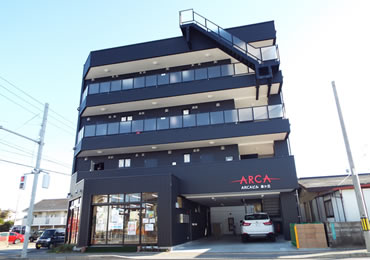 Zip-Code: 981-3629
30, Tekunohiruzu,Taiwa-cho,Kurokawa-gun, Miyagi-Prefecture, Japan
TEL:022-725-7396
FAX:022-725-7397
Oshu Highway, Along Riku Kaido
Copyright © ARCA All rights reserved.